Where Should the Slide Adjuster Sit on Braces for Trousers?
21 January 2020 | Admin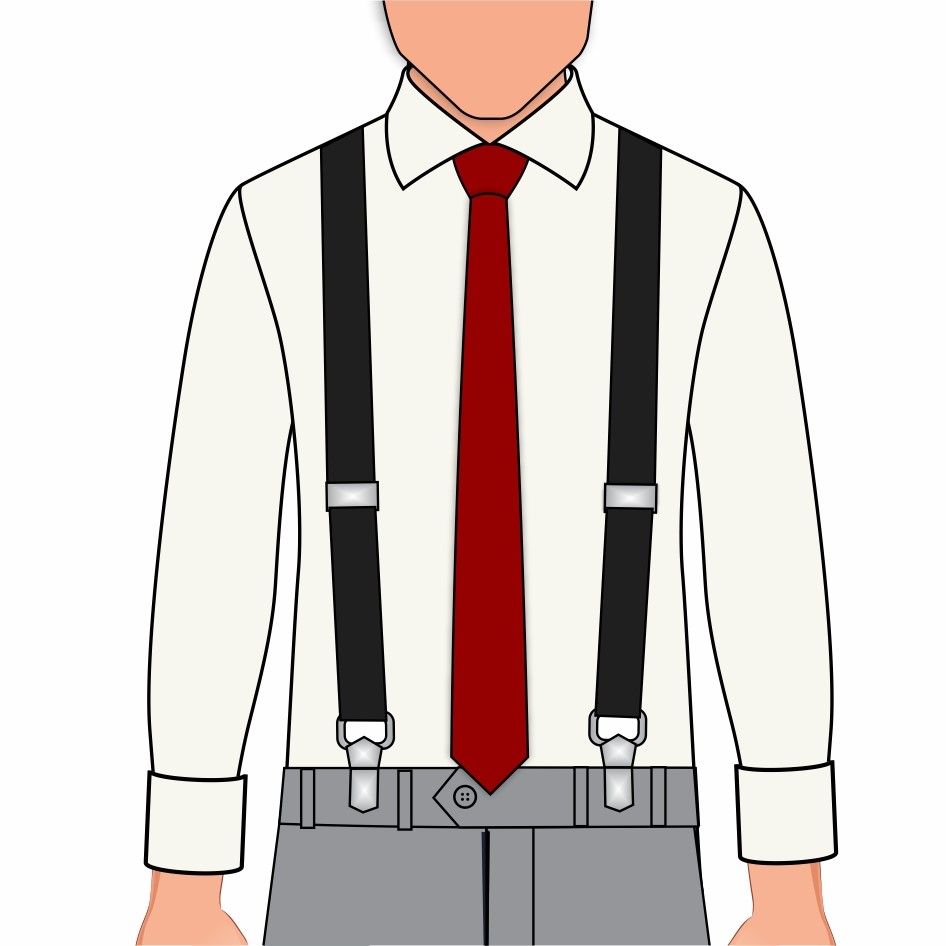 Where Should the Slide Adjuster Sit on Braces for Trousers?
Most braces manufacturers design their braces so they can be adjusted. Our braces are all fitted with a metal slider adjuster sometimes known as a clamp adjuster or grips. These are easy to use the adjust the braces to the size and length you require. (Remember though, they cannot be extended longer than their maximum length. You may need to buy braces in a larger size). If the braces are clip on braces the colour of the slide adjuster will match the braces clips and will be either silver or gold coloured. You want the adjuster to hold the braces elastic and not slip.
Once your braces have been adjusted using the slide adjuster to achieve a comfortable fit, the metal slider should sit around the bottom of the rib cage area as shown in our diagram above.
If the sliders are positioned too low near the waistband this means the elastic is close to full extension and you may need to consider buying longer length braces.
If the braces sliders are sitting up high perhaps near your collar bone area this means you have reduced the length considerably and should consider perhaps buying a shorter length trouser brace.
Purchasing the correct size is very important therefore to ensure a comfortable fit with sliders in the correct position. Please refer to our measuring size guide to establish what size braces you need.
How Do You Adjust Suspenders or Braces for Trousers?
Once you have your braces on and fastened at the front and back of your trousers simply lift up the front of the metal slide adjuster to adjust the fit and then pull the elastic or material through to the required length. Once in the correct position squeeze or clamp the slider back down flat and it will hold your trouser braces at that exact size or position. Then do the same with the metal slider on the opposite side. Take a final check in the mirror to ensure that your sliders are level at the front.
When you first receive your braces if they are stiff initially, just open and close them repeatedly a few times and they should ease.
How Tight Should Suspenders be?
Your braces should never hang loose. However, they should sit snugly over your shoulders but not too tight. Remember the purpose of wearing braces is to hold your trousers up in a comfortable position and so the length of the trouser leg sits smartly above your shoe.
Learning how to wear braces on trousers can add a touch of sophistication to any outfit.