Suit Accessories
10 June 2019 | Admin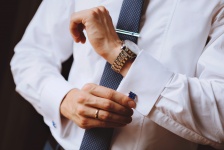 Suit Accessories
Looking for men's suit accessories online? Look no further, as here at Gents Shop, we think we have got it covered. Smart suits together with smart suit accessories are very on trend right now. What do we actually mean by suit accessories? We mean cufflinks, trouser braces suspenders, ties clips, dress shirt studs, lapel pins, pocket squares and bow ties.
The number of accessories you wear will vary with personal preference but also how formal the event is you are attending. In general, the more formal the function the more suit accessories you would wear. Think about it, if you wear a suit to work you would usually add a tie, a belt or braces and perhaps cufflinks. We would class these as essential men's accessories. If you are attending a formal function such as a dinner dance you are more likely to need wear a bow tie, trouser braces, cuff links and perhaps formal dress shirt studs and a pocket square. Take a look below at our top men's accessories for 2019.
One of the best men's accessories brands for suit braces is GS BRACES®. All our men's braces are made in Britain using good quality products. They are offered at very competitive prices and available in extra-large sizes. We have hundreds of styles and colours in these classic men's range. Choose from slim braces, standard 35mm wide trouser braces, braces with clips and braces with leather button ends.
Cufflinks;- These could be described as classy men's accessories and functional for formal functions. If you're not used to wearing or choosing cufflinks to accessorize your suit these simple ideas may help.
Consider the colour of your other accessories such as your watch or jewellery. Do you need to choose a colour to match such as silver?
Consider the type of function or event. Do the cufflinks need to be formal or would a novelty pair be best perhaps linking into a themed event or a hobby or interest?
Would it be best to wear a matching tie clip or dress shirt studs? If so, consider buying them as a set for a perfect match.
If your formal function demands a tuxedo shirt you will need to invest in some formal dress shirt studs and cufflinks. Before you invest, consider are you likely to wear a cummerbund? This is important as if not you will need 5 shirt studs as a minimum in the set. If a cummerbund is to be worn around the waist then a set of 4 shirt studs will be required. Normally sold in black, white or mother of pearl you could also match the silver or gold colour to your other accessories.
A pocket square is not a replacement for cotton handkerchiefs to be used by the man. A general rule is if used to blow, don't show. A pocket square is a decorative square of fabric, usually cotton, silk or linen that goes into the outer breast pocket of a jacket or blazer to add some decorative flair to your look.
The pocket square rules dictate that a you should not be matching your tie and pocket square. It is easy to do this however it is a no no.Use the pocket square to complement the rest of your look by harmonising or contrasting with a colour in your tie. If you choose a plain coloured tie, perhaps choose a patterned pocket square or even two, with some of the same or similar colours of the tie within it.
We hope this article has reminded you that simply wearing a classy suit is not enough. If you are already used to wearing suit accessories try adding different colours, styles or materials to vary your look. Make your look unique and like you by choosing your suit accessories carefully.