New Range of Trouser Braces at Gents Shop
3 May 2022 | Admin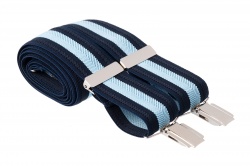 Gents Shop is pleased to announce their new range of braces for trousers which will be sold under the registered trademark MANDITTIONS®.
These braces are British made using good quality elastic webbing, leather, clips and accessories. Several designs are available now including clip on and button on braces all in several sizes, some from small to XL. Please refer to our size guide and video for guidance.
See the full range of our Mandittions mens braces, hankies and more.