A guide to Mens Braces
1 Comment
Wednesday, 19 February 2014 |
Admin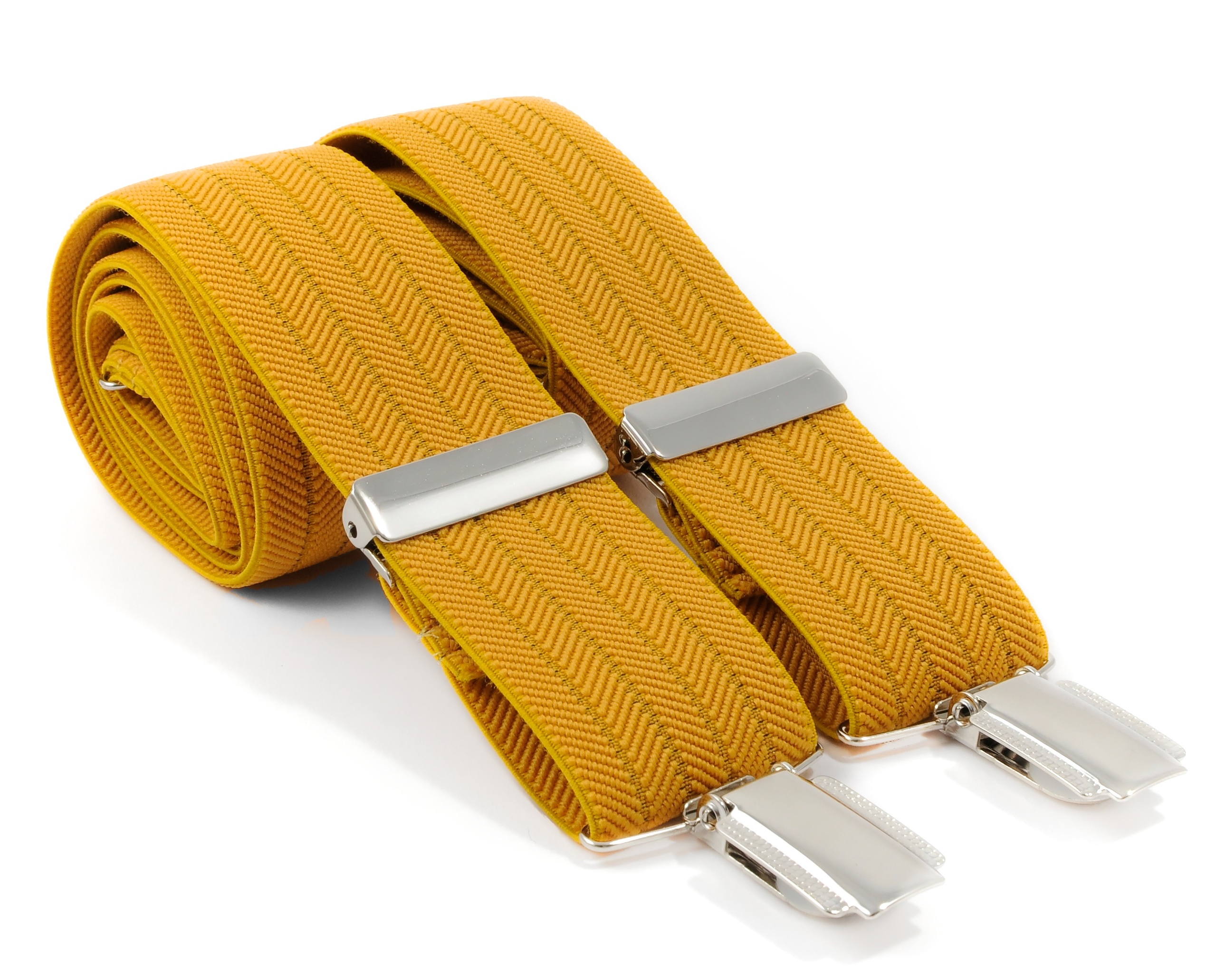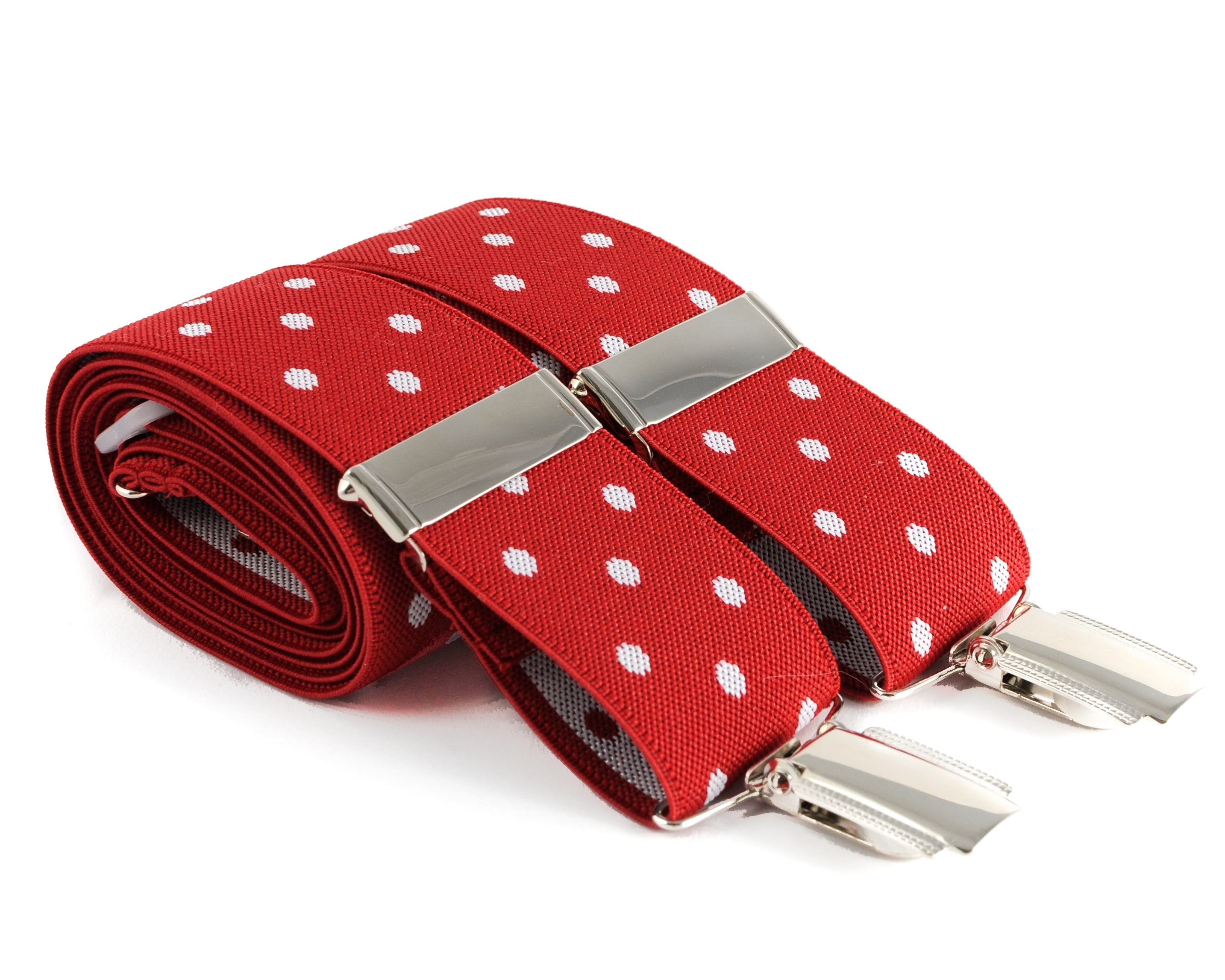 If you ever thought braces were just something your grandad wore 'back in the day?' Think again! Braces are back in fashion and it looks like they are here to stay. Here we will provide a beginner's guide to wearing men's braces, covering everything you need to know, from the different types to how to wear them with style.
The most common type of men's braces are clip braces.
Types of braces
Let's get started by talking you through the different types of men's braces available. The most common type of men's braces are clip braces. As the name suggests, these have clips on the end of each brace, making them easy to attach to your trousers. If you are going to invest in clip braces, it is important to pick up high quality ones with strong clips. Poorly made clips will lose their strength after a while and you do not want to be walking round with your braces flapping by your leg!
Next up we have button braces. These are the original style of braces and probably similar to the ones your granddad did wear 'back in the day.' These braces have loops on the end which simply hook onto the buttons seen on the inside of your trousers. Button braces are known for their reliability, though today they are not as commonly worn as men's clip braces.
Last but most certainly not least we have the combo braces. These braces come with both clip and button ends, so you can change it up, depending on your mood or you know - if your trousers have buttons sewn in or not!
X vs. Y
Now we have established the various different types of braces, we are moving onto X and Y backs. Basically the type of brace back is determined by what the braces look like from behind when you are wearing them. Some men's braces form the letter X, whereas others form the letter Y.
X back braces are often favoured by men as they provide a better fit. They come with two clips or buttons on the front and two clips or buttons on the back which you simply attach to your trousers. Y backs on the other hand come with two clips or buttons on the front and one on the back, because of this they are often referred to as three clip braces.
Whether you opt for X back braces or Y back braces, you will find that where the material crosses over at the back, there is a joint made from leather, metal or plastic keeping them in place. Obviously leather and metal joints look better than plastic ones, but will make the braces slightly more expensive.
Braces designs
Whereas in the past men tended to wear plain braces, today they are available in a wide range of designs. Of course, men still wear plain coloured braces today, especially in the work place, but if you are looking to add a quirky touch to a weekend outfit, why not opt for a printed design?
Wearing patterned braces is a great way to show a little of your personality through your choice of attire. You may also want to consider picking up novelty braces for various occasions throughout the year, such as Christmas parties, Valentine's Day and Halloween!
Today most braces are made from stretchable elastic as it provides the most comfortable fit. You will be able to pick up non-stretchable fabric braces from some places, but we cannot promise that they will be as comfortable!
Sizing up
The main issue that men have when purchasing braces is the size. It can be quite difficult to decide on the perfect sized braces, so here's a few tips.
The length of average sized braces is 40 - 44 inches this will fit males of medium build up to 6ft tall.
Extra-long braces vary between 44 - 48 inches and are suitable for men of medium build, up to 6ft4.
Most braces come with slide adjusters, so if they feel slightly too long, you can simply move the slider to offer a better fit.

Today many men wear braces as part of casual attire.
How to wear braces
There are two main ways that you can wear men's braces. The first is a corporate look and the second is casual / cool. For a corporate look that you can wear to work, simply attach your braces to your suit trousers, over your formal dress shirt and pop your suit jacket over the top.
For a casual / cool weekend look, pop on your favourite shirt, roll up the sleeves and undo a button or two. Hop into your chinos and attach your braces and voila! You are good to go.